Undergraduate Programs
Physics is one of the most demanding majors offered at the College

The strength of the Physics program is viewed externally as a benchmark of College excellence. The Physics major exists as an avenue for exceptional Queens College students, as a source of talented technically trained students for local industry and educational institutions.
The Physics Major
The Physics Department offers the B.Sc. and B.A. degrees in Physics. These degrees enable graduates to pursue graduate studies in Physics, to qualify for positions in industrial and government laboratories, or pursue careers in related fields such as Science Education, Engineering. In addition physics graduates have successfully entered the fields of Astronomy, Biophysics, Astrophysics, Computer Science and Medicine. There are two tracks for B.A. in Physics: "Physics" and "Applied Physics". Please click on a link below to see requirements for either track.

Requirements:
The recommended sequence of Physics courses for all majors are typically completed within three years (Fall semester registrants) or four years (Spring semester registrants).
Recommendation:
Sequence of courses
Accelerated B.S. in Physics M.S. in Photonics program
Combined Physics B.S. – Photonics M.S. program (149 credits, Major Code: PHYPH-BSMS), offers best students an opportunity to obtain both B.S. and M.S degrees in 5 years instead of usual 6 and with only 149 credits instead of 163. Sixteen graduate credits will be taken while students are still undergraduates and are charged at the undergraduate rates giving students a substantial saving. Photonics M.S. program has been certified by the Council of Graduate Studies as Professional Master's Program. See more details on the Photonics M.S. home page.
Pre-engineering: Queens College/Columbia University Dual-Degree Program in Engineering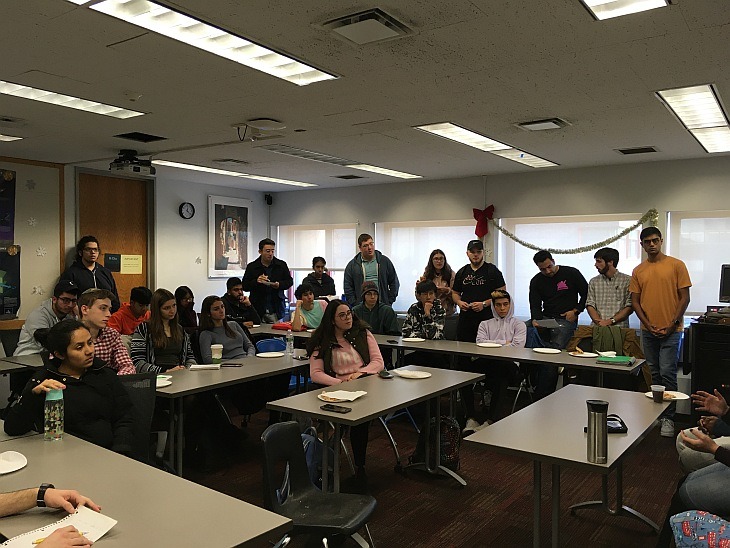 Program Liaison: Prof. So Takei
Office: Science Building B220
Phone: (718) 997-3379
Email: tskaieq@.cucyne.ud
What is The Pre-Engineering Program?
Queens College offers students with interest in engineering the opportunity to pursue that interest while benefiting from Queens College's high-quality liberal arts and sciences education at an affordable price. The program offers research opportunities with world-class faculty known for their dedication to teaching, and diverse student activities.

The Pre-Engineering Program, administered by the Physics Department, offers a 3-2 or a 4-2 dual-degree program. Through the program, students receive a bachelor's degree in a major of their choosing from Queens College and a second bachelor's degree in engineering from Columbia. Students spend their first 3 or 4 years at Queens College taking courses for their QC degree and completing suggested courses for admission into the Columbia School of Engineering and Applied Science. Students then spend their last 2 years at Columbia completing their engineering degree. Most students opt for majoring in the B.A. in Applied Physics at Queens College due to the considerable overlap between the major and the Pre-Engineering requirements.

For all applicants who began at Queens before Fall 2019, your transfer to Columbia will be guaranteed, provided that you have satisfied the articulated course and certain grade requirements at Queens. Specific requirements to be satisfied for guaranteed admission into Columbia are discussed in one of the links below. All applicants who began at Queens in Fall 2019 or later will be considered under the competitive review process.

Please note that you can reapply to Columbia even if you are not accepted the first time, however, all students reapplying will be considered in a competitive review process. We have had several students who have not been accepted in their first year, and reapplied successfully. Others have been accepted and later chose to defer to a Master's or PhD program elsewhere.

What are the benefits of The Program?
There are many benefits to participating in an pre-engineering program. Students can experience the benefits of a smaller school and community before the larger school and will graduate with both technical knowledge and enhanced "soft skills," such as creativity and critical thinking, which can be very useful in the working world.

Every year, we have about 15-20 students expressing interest in the program. Some of these students are in their freshman year, some are transferring in from a community college, and some have already spent a year or two pursuing another field of study but have discovered a new passion in engineering. The rigorous curriculum requirements for pre-engineering satisfy a wide range of future careers and provide a smart student cohort at Queens College. Pre-engineers have an average CGPA of more than 3.7 at the time of transfer to Columbia, and an overwhelming majority of them have applied to Columbia with guaranteed status.
What are the pre-engineers doing now?
We are proud of our alumni, who are now applying their newly-gained knowledge and expertise in a wide range of fields, from nano-optoelectric devices and aerospace & defense, to cybersecurity and financial consulting. Some have received internships and job offers from Fortune Global 500 companies like Microsoft, General Dynamics Corporation, Sumitomo Mitsui Financial Group, and Accenture, and one of our alumni is pursuing a doctoral degree in Electrical Engineering at MIT. Some of their achievements have been recognized through prestigious fellowships/scholarships including the National Science Foundation Graduate Research Fellowship and the Boeing Scholarship.

Students with interest and questions regarding the Pre-Engineering Program should contact the Program Liaison (see contact information above).
Notifications:
Opportunity: Click here for information on internship opportunities at the Society of Physics Students (SPS). Dated: 10/4/2021
COVID Flexible Grading Policy: Columbia will not expect Combined Plan applicants to have earned letter grades in their classes taken in Spring 2020, since QC students were allowed to take some classes for a letter grade and others for Credit/No Credit marks. For Fall 2020, Columbia will accept prerequisite courses completed at QC in the format offered, whether online, in-person, or a hybrid model. These courses must be completed for a letter grade.
Opportunity: US Department of Energy's Science Undergraduate Laboratory Internships (SULI) Program is now accepting applications for the 2021 Summer Term. Click here for more information. Dated: 10/4/2021
Opportunity: Click here for information on internship opportunities at Microsoft. Dated: 10/4/2021
Opportunity: Click here for information on quantum computing internship opportunities at IBM. Dated: 10/4/2021
Opportunity: Click here for information on US Department of Defense's Science, Mathematics, and Research for Transformation (SMART) Scholarship-for-Service Program. Dated: 10/4/2021
Opportunity: Click here for information on internship opportunities at NASA. Dated: 10/4/2021
Opportunity: Click here for information on internship opportunities at the Brookhaven National Laboratory. Dated: 10/4/2021
Opportunity: Click here for information on the prestigious National Science Foundation's Research Experience for Undergraduates Award. Dated: 10/4/2021
Program Requirements:
Useful Links:
The Physics Education Major
In conjunction with the Department of Secondary Education and Youth Services (SEYS), the Department of Physics offers an education major for future secondary education teachers. The requirements for this program are similar to the BA Applied Physics program, with the omission of a few higher level courses in favor of a Physics writing intensive course, a General Astronomy course, and required SEYS courses.

Requirements:
Physics Education
Special Programs

The Physics Department participates, with other Science Division Departments at Queens College, in the Science Honors Program. This is a two year program which, through seminars, readings and participation in research programs, introduces selected undergraduate science students to the practice and practitioners of science. It exposes them to the diverse ways scientists think, and to the spirit of discovery.

The Physics Department is also home to the Science Teacher Career Ladder (STCL) Program, and the Enhanced Science for Elementary Teachers (ENSET) Program. The STCL Program recruits and trains students to become New York State Science Teachers. The ENSET Program is a collaboration with the School of Education designed to improve the science knowledge and teaching skills of science teachers.
The Minor
The Minor Program in Physics is designed to introduce students to the concepts of classical and modern physics. We hope by this program, which is comparatively light, to attract two types of students. First, the student who enjoys science but does not intend to major in the sciences. Secondly, the student majoring in biology, chemistry, computer science, mathematics, for example, who can strengthen his/her background and improve future prospects by taking a minor in physics.
Requirements:
Physics Minor