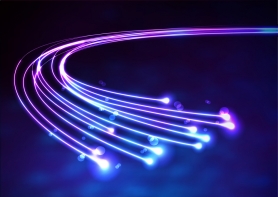 Successful completion of the Professional Science Master's (PSM) Degree in Photonics provides its graduates with:
State-of-the-art knowledge and technical hands-on skills that are in high demand with numerous technical industries
Improved oral and writing communication skills as well as team-building skills, which are commonly cited as lacking in college graduates
Training and knowledge of the business and economic aspects of high-tech companies
"Learning agility" – a skill recently identified by such companies as Verizon as "essential" in their hiring strategy
To accomodate the schedule of working students most of our classes are offered in the evening
According to the National Photonic Initiative the following industries depend heavily on workers with training in Photonics:
Advanced Manufacturing (Laser tooling, 3-D printing, etc.)
Communication and Information Technology (fiber optics, on-processor optical interconnects, etc.)
Defense and National Security (high-resolution imaging, remote sensing, photonic integrated circuit and advanced lasers manufacturing, etc.)
Energy and Environment (solar energy, efficient solid state light sources, photonic sensing, optical pollution sensing etc.)
Health and Medicine (real-time optical testing, optical endoscopy, optical bio-imaging, laser surgery )
Demands for qualified workers in the field of Photonics and adjacent disciplines are expected to remain strong for a long period of time. At the same time, multiple employer's surveys point to a wide gap between the set of skills possessed by college graduates and those sought by employers. The professional training appropriate for industrial employers is not provided by the current academic curricula of traditional science, technology, engineering and mathematics (STEM) programs. The Master of Science in Photonics degree offered by QC Physics department is a fully accredited innovative program developed to fill this gap. In a two-year program — which includes extensive lab work, additional business courses, industrial internships, and team projects — students receive rigorous academic training with an emphasis in photonics and gain additional skills in preparation for future employers.
Developed in close collaboration with program's
Industrial Advisory Board
that includes representatives of companies of different sizes – from small start-ups to multinational corporations, it has been certified by the Council of Graduate Schools as a
Professional Science Master's
(PSM) program.The Professional Science Master's is a new type of graduate degrees designed to compliment advanced training of students in science or mathematics by developing additional workplace skills that are highly valued by employers. QC Photonics MS is the first physics PSM program offered by the City University of New York and one of the only few such programs in the Tristate area.