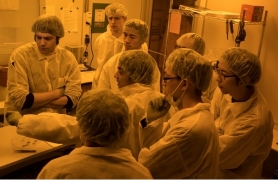 Photonics PSM is a competitive program designed to attract the best students with diverse educational and cultural backgrounds. However, in order to be successful in completing the program in two years, potential students are expected to have completed coursework corresponding to, at least, a minor in Physics (20 credits beyond introductory physics courses, which include Classical Mechanics, Modern Physics, Thermodynamics and Statistical Physics, and Mathematical Methods for Physicists). Students, who do not have the required background in physics still might be considered for the program, but should expect longer path toward its completion.  Such applicants will be required to remedy deficiencies in their educational background before they can start their graduate level coursework.

QC does not accept paper applications any longer: all applications must be submitted online following this link

GRE scores are not required for admission, but applicants educated abroad are required to take TOEFL or equivalent language exam. In the case of an inadequate TOEFL score, we can accept an applicant conditionally with a requirement of taking at least one semester on English Language classes at Queens College's ESL Institute. All applicants are required to submit three letters of recommendation attesting to applicants academic abilities and personal qualities.
Enrollment decisions are made on the basis of applicants' undergraduate GPA, work experience and demonstrated commitment to the study of physics regardless of applicants' race, gender, ethnicity, religion, and country of origin. QC Physics Department is committed to increasing diversity among high-tech workforce and we encourage applications from all individuals who are interested in the study and advancement of physics.